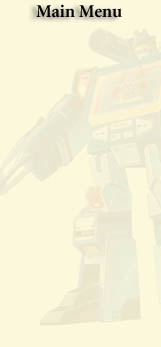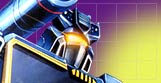 CYBERTRON   RATCHET EMERGENCY GREEN

Strength: 4
Intelligence: 8
Speed: 4
Endurance: 5
Rank: 7
Courage: 8
Firepower: 3
Skill: 10
Total: 59
Function: Cybertron Medic
Transformation: Toyota One Box Fire Emergency Van
Motto: "If you destroy it, I'll just rebuild it"
Condition: C10 MIB; purchased 2009
Character:
Ratchet is known as a mechanical repair genius, capable of fixing almost all Cybertrons, as long as he has required equipments and parts. Has a rough bedside manner, though he treats his patients with the utmost care. The soldiers on the front line have nothing but respect and trust for him.
Ratchet has grown concerned about the increasing number of humans whose lives are at risk as the war between Cybertrons and Destrons intensifies. He has therefore invented new equipment to save human lives.
Ability:
Ratchet's whole body is covered with a special screen which contains nano-machines. When he is exposed to an extreme situation, the screen activates its special ability to protect the injured passengers inside.
It turns green like a plant giving out a beautiful glow due to photosynthesis. His Cybertron comrades have named the beautiful body colour "Emergency Green", and praise Ratchet's willingness to save and protect every life form.


Photograph Links (click the following to view):
Front of box
Back of box
Printed robot head

Also see:
Same Mould:
Same Name: