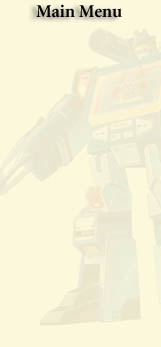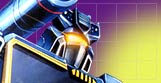 CYBERTRON  WHEELJACK SC-19

Strength: 6
Intelligence: 6
Speed: 9
Endurance: 8
Rank: 6
Courage: 9
Firepower: 7
Skill: 8
Total: 59
Function: Special Engineer
Quote: "I'll tidy swiftly tidy this fight up."
Transformation: Seibertronian Sports Car
Note: C10 MIB, purchased 2004

Came quickly from Seibertron with the soldier Overdrive. Has excelled in his speed ability, and his mobility is on a par with Hotshot's. If he superlinks with any soldier his agile movements can defeat any enemy.


Photograph Links (click the following to view):
Front of box
Back of box
Accessories
Robot mode
Car mode
Car mode with weapons

Also see:
Same Mould:
Same Name: