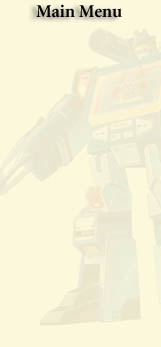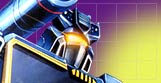 AUTOBOT   AUTOBOT HOUND w/ RAVAGE

Strength: 5
Intelligence: 8
Speed: 5
Endurance: 7
Rank: 6
Courage: 10
Fireblast: 3
Skill: 9
Function: Scout
Motto: "Observe everything, remember even more."
Alternate mode: Jeep
Condition: C10 MOC, purchased 2009

Chief tracker and scout for Optimus Prime, Autobot Hound packs some of the most sophisticated sensing technology of any of the Autobots. He is capable of tracking even the most stealthy and light-footed Decepticon - namely Ravage through rivers, across bare rock, and even through the air by the spare whisper of electromagnetic radiation the robot panther leaves behind. Though Ravage can hide almost perfectly in even the slightest shadow, no amount of skill can prevent Autobot Hound from finding him.


Photograph Links (click the following to view):
Front of card
Back of card
Accessories

Hound
Robot mode
Robot mode holding gun
Close up of robot head
Jeep mode
Jeep mode with gun
Jeep mode with captured Ravage

Ravage
Robot mode
Cassette mode